(Last Updated On: November 18, 2017)
Lisk is a decentralized blockchain platform launched in 2016. This guide covers details on Lisk cryptocurrency, Lisk Wallet, How to buy Lisk and we also cover some ground on comparing Ethereum and Lisk. We will be updating this post regularly and incorporating new developments.
Here is Broadly how the Guide is Structured
What is Lisk: Introduction to Lisk
Lisk is a decentralized blockchain application platform which enables developers to create, deploy and manage their own blockchain applications via a sidechain to Lisk network.
Does this sound lot of jargon to you? 
If yes let us try to simplify this. Back in 2016 when Lisk Launched there were a lot of questions what Lisk is and what it intends to accomplish. Lisk team came up with a detailed blog post on What Lisk is and What it is not.  You can read the complete post here.
To make things simpler to understand here is my take on What Lisk is and what they are trying to accomplish.
Lisk is 
Decentralized independent blockchain network Like Ethereum or NEO and not built on top of ethereum.
Lisk uses a consensus algorithm called Delegated Proof of work. We will discuss more on the algorithm later in the Guide.
Lisk is a cryptocurrency with its own token called as LSK.
Lisk also provides LSK SDK platform for developers to build its own apps on the Sidechain.
Key Features of Lisk
 Modular Cryptocurrency:  Lisk is touted as the first modular cryptocurrency by its founders.                  What does modularity mean? Modularity is a design where different applications can interact with the main blockchain through sidechains. Essentially Modularization will help overcome scalability problems inherently to all blockchain networks with a design where features on the main Lisk blockchain can be built through side chains as a simple blockchain application.This frees up the main blockchain and helps to scale the blockchain and make transactions faster.
Delegated proof of work: The consensus algorithm used by Lisk is Delegated proof of work. This is the same algorithm which is used by Bitshares and was invented by Bitshares founder Dan Larimer Technical details of the algorithm are beyond the scope of this guide. Practically what DPOW( Delegated proof of work) does is it fastens consensus and hence accelerates transaction processing. There are currently 101 delegates who control the rewards on the Lisk blockchain.Currently, Lisk transactions get confirmed within 1-2 minutes. You can read about Delegated proof of work here   
Developer friendly Javascript Framework: Lisk is built on a developer-friendly Javascript framework which makes it easier for developers to build apps for the Lisk ecosystem. Lisk SDK thus provides easy to use tools for developers to build any kind of apps like messenger, games, shopping applications, storage applications any use case you can think of similar to ethereum. JS framework is the key pitching point for Lisk vis a vis Ethereum which requires developers to learn a new coding language Solidity.
Lisk as the biggest sidechain platform: One of the core architectural innovation of Lisk is the concept of sidechain. This allows developers to build applications on side chain away from all the clutter on the main chain. One can choose to use the same token as the main chain or use a new token custom token on the sidechain.
Decentralized Application directory aka Playstore: Lisk also provides a store/directory of apps available on the Lisk platform. you can access these right from the Lisk Client ( We will be talking about Lisk client later in the guide). So Lisk provides a decentralized store for blockchain apps to exist and distribute.
 Lisk Price, Lisk Price Chart, and Historical Trends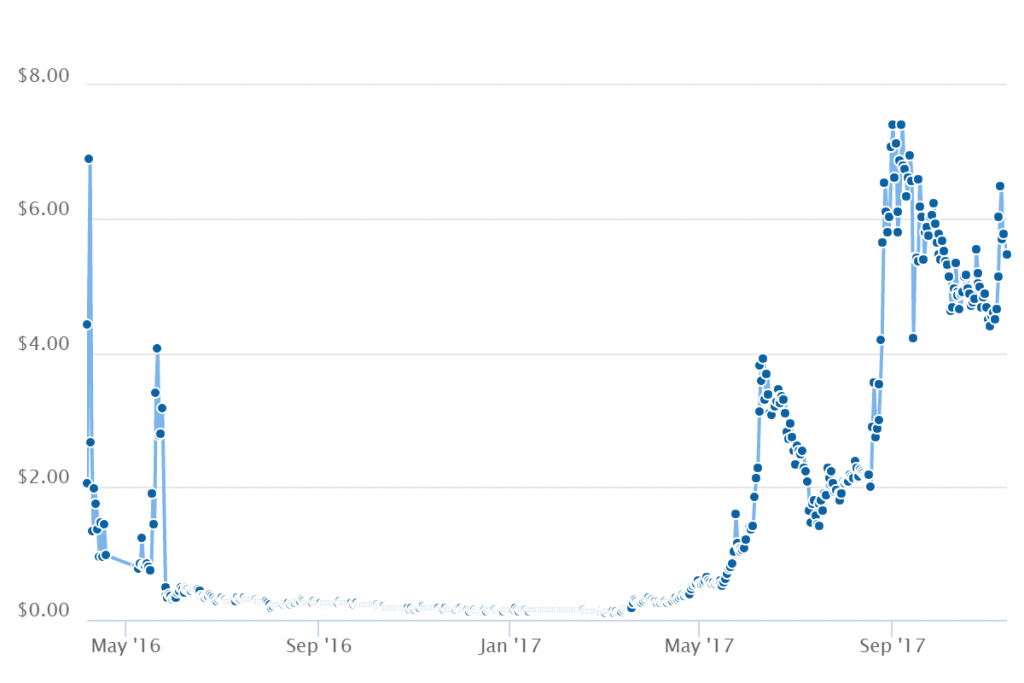 Lisk: A brief History and Key Milestones
Lisk was founded by Max Kordek and Olivier Beddows who are currently CEO and CTO of Lisk respectively. Here is a brief timeline of how Lisk has progressed so far.
Jan 31st, 2016  Kordek, and Olivier announced that they are leaving Crypti and forking Crypti to what will become the Lisk Platform. They also announced on ICO to fund the development and marketing of Lisk.
With the announcement, they also announced the launch of Lisk and the Lisk client and bunch of support channels
Lisk ICO was announced in January 2016. Between February and March of 2016, Lisk ICO closed $ 9.8 million in funding through crowdfunding one of the largest in the history of cryptocurrencies.
In June 2016 Lisk announced that Charles Hochenson one of the founding members of ethereum is joining Lisk.
On 16th November 2017, Lisk hit a 1 Billion Dollar market cap and was the top 15 cryptocurrencies in the world.
Why Should you consider Lisk
What differentiates a successful decentralized blockchain platform from a not so successful platform at least in early days is how many developers you can attract which in turn depends on how easy you make for developers to build applications and run it successfully on your platform.
Javascript based developer framework: One of the key advantages of Lisk is the entire developer framework is written in javascript which is quite popular and hence reduces the barrier to developer adoption.
Great Documentation: Unlike many other open source projects Lisk has one of the better documentation resulting in easy onboarding for developers as well as users
Sidechain Flexibility: Lisk Sidechain provides great flexibility for developers to build their solutions and interact with mainchain only when necessary.The central main chain provides security and stability which is required to run the decentralized platform. So Lisk manages the core and you can focus on your apps.
Key Challenges Lisk faces
What is the differentiator?
Lisk has tried to present simpler JS framework and a lower learning curve for developers as a strategic advantage but development framework on its own does not constitute a sustainable differentiator. You need to get developers to work on your framework and push adoption. I do not currently see that happening They need to get their developer tools stable and aggressively push adoption.
No Killer App or Use case yet
For all the hype, press coverage and the price pop-up there is no single App in the Lisk ecosystem worth talking about let alone a blockbuster. Ethereum already has ICO as a blockbuster use case.
Unknown Scalability Challenges.
Ethereum has been under fire for the scalability challenges it faces as its singular blockchain struggles to scale with transaction volume increasing. Lisk uses a sidechain to sidestep this problem. Which in theory is a good idea but we are yet to see how it works in practice or at a scale.
How to buy Lisk
To buy Lisk first you need to buy bitcoins or ethereum and then follow the process below to convert them to Lisk.If you already have Bitcoin or ethereum than you can directly convert them to Lisk
Buy Bitcoins or ethereum with Fiat currency ( Credit card/debit card/PayPal) and then convert them to Lisk.
If you already have Bitcoins then just directly convert them to Lisk.
Buying Lisk through exchanges.
One way to buy Lisk is to buy bitcoin from one of the top crypto exchanges and then head to an exchange which converts Bitcoin to Lisk. Currently, you can use Poloniex, Shapeshift, Channgely. I am going to show you a step by step process of buying bitcoins on Coinbase and then converting them to Lisk at Poloniex.
Step by Step Guide on Buying Lisk
Go to Coinbase and sign in to your coinbase account. If you do not have a coinbase account signup for a new account
For new signups verify your account and add required details to secure your account
 Add funds to your coinbase account
 Buy Bitcoins from your coinbase account
 Go to poloniex. login to your poloniex account. If you do not have a poloniex account yet signup for a poloniex account.
Create your bitcoin address on the poloniex exchange.
Transfer your bitcoins from coinbase to poloniex
Convert Bitcoin to Lisk on poloniex
 Transfer you Lisk to Lisk wallet.
Let me explain the steps in details with screenshots for greater clarity
Step 1: Head to Coinbase( coinbase.com) if you do not have an account please create one by doing sign-up on Coinbase. Here is how the signup screen on coinbase looks like.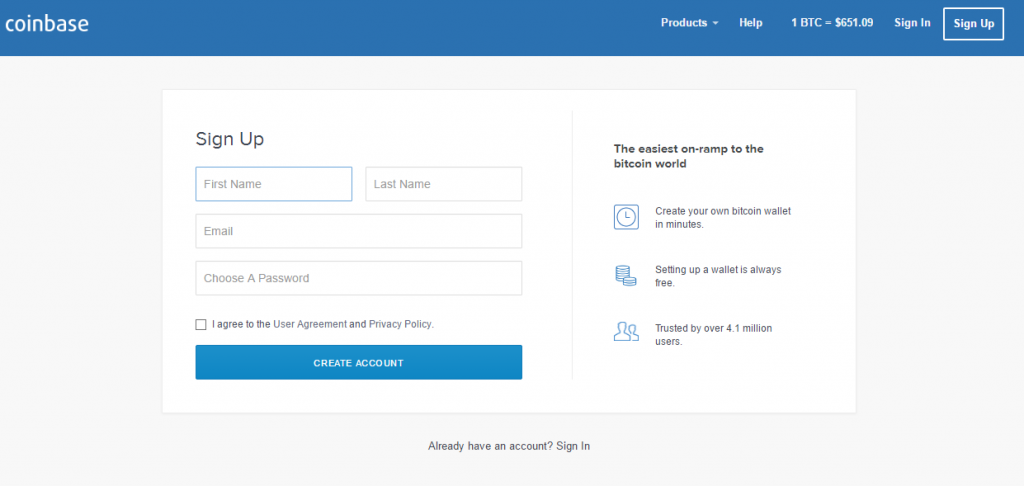 Step 2: Update your account with required details like email, phone number this helps coinbase to complete your verification and secure your account.
Step 3: Add Funds to your coinbase account.Coinbase allows you to fund your account in multiple ways you can use a credit card, debit card, PayPal or also do a bank transfer.Credit and debit card allows you to make an instant purchase of bitcoins or any other cryptocurrency you are buying. If you are funding your account through a bank transfer it can take 3-4 days for the money to be available.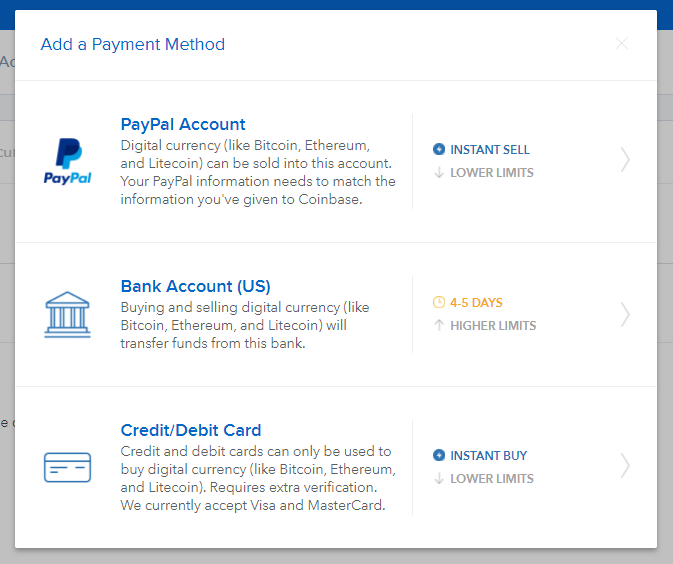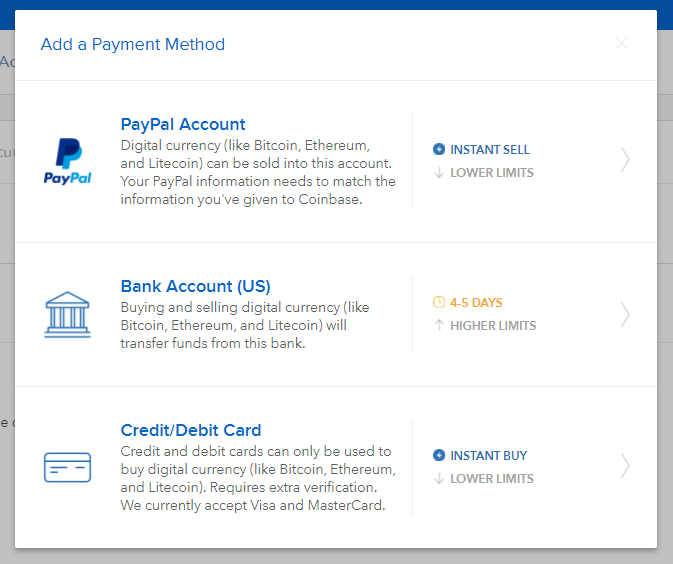 Step 4:  Buy Bitcoins on coin base. Now that you have funds in your account go ahead and buy bitcoins.On the top right corner of your screen, you will see the current Bitcoin rate. You can click on Buy/Sell Bitcoin and make the purchase as per your requirement. It is a simple checkout like you buy any other product online. And like other digital products you get credit for your bitcoins almost instantaneously. Now that you have bitcoins its time to convert bitcoins to Lisk. You can do it in poloniex or Shapeshift.  We will go through a simple process of exchanging Bitcoins with Lisk on Poloniex.
Converting your Bitcoins to Lisk
Step1: Let us head to poloniex. If you do not have an account on Poloniex first step would be to set up an account on poloniex Here is how the landing page of Poloniex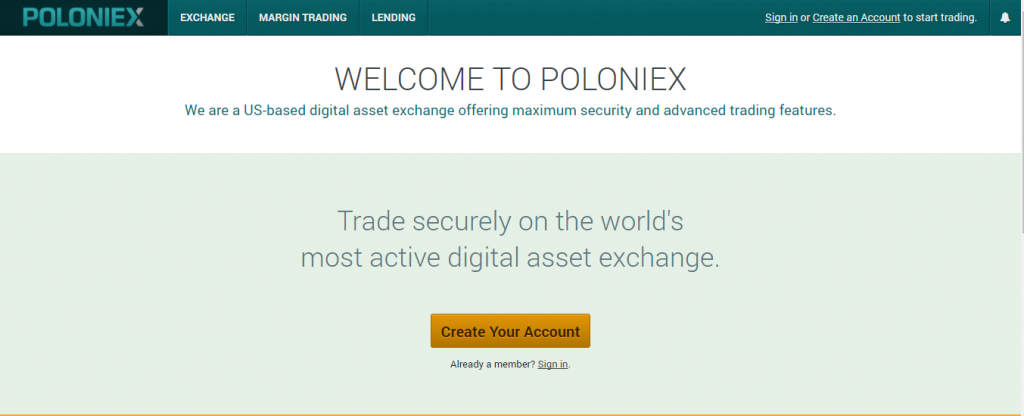 Step 2: Complete and verify your profile on Poloniex. Fill up the self-explanatory fields and get started. You would be asked to confirm your email id and confirm your identity and address through a passport or any other identity proof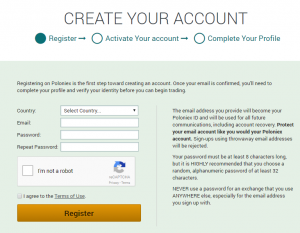 Step 3: Create your Bitcoin address on the Poloniex exchange. Essentially what we want now is to transfer the bitcoins we bought on Coinbase to Poloniex. So we would need an address where we can send the bitcoins. All right let's go ahead and create our bitcoin address on poloniex. Here is what you need to do
   On the Poloniex dashboard click Balances in the top right corner.
   From the drop-down choose Deposits and withdraw.
  On Deposits and withdraws search for bitcoins
  Select Deposits from Bitcoins you will get a prompt to Show me Bitcoin address click and you can see your          bitcoin address
Step 4: Transfer your Bitcoins from Coinbase to Poloniex. So finally now we are ready to transfer bitcoins we bought from coinbase to poloniex.
Go to coinbase.
On your coinbase dashboard Click on Send funds.
Put in your Poloniex address in the recipient field.
Enter the bitcoins you want to send and And an optional note Bitcoins for Converting to Lisk.  Click on send.
You get a confirmation screen click on confirm and you are done.
Step 5: Converting Bitcoins to Lisk on Poloniex. You might need to wait a bit depending on how fast bitcoin network is Once you receive the bitcoins in your Poloniex account.

Now that you have your bitcoins in your account it is time to convert them to Lisk. On your Poloniex account click exchange. From the right search box next to markets search for Lisk. You can type LSK and click there.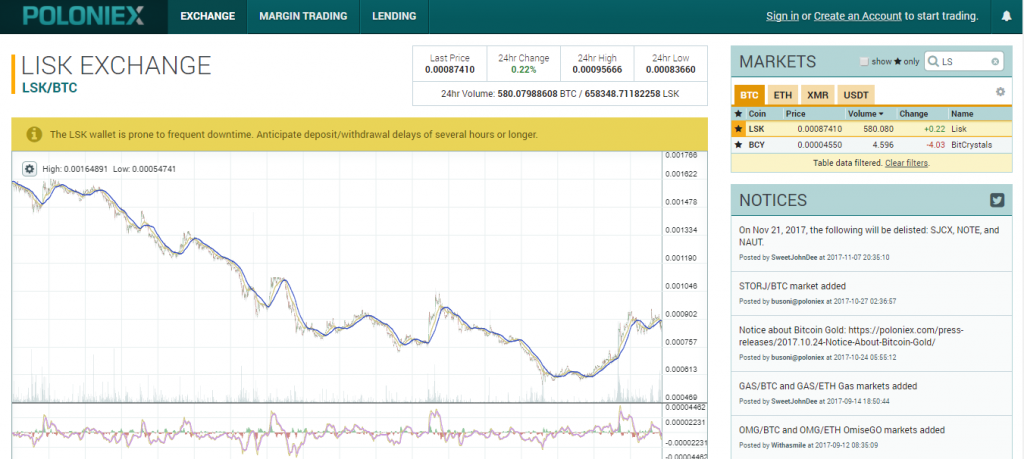 Click on Lisk and a transaction box opens where you can convert bitcoin to Lisk.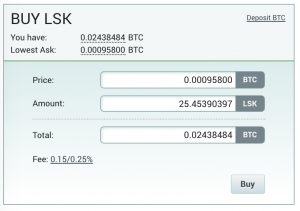 You can click on buy and finally, you would have converted Bitcoins to Lisk.
Now that we have Lisk in our Poloniex exchange it is time to move them to our Lisk Wallet. Let us understand what is Lisk wallet and how does it work
List of Exchanges Where to Buy Lisk
| | | |
| --- | --- | --- |
| Source | Exchange | Pair |
| 1 | Bittrex | LSK/BTC |
| 2 | Poloniex | LSK/BTC |
| 3 | BitBay | LSK/PLN |
| 4 | YoBit | LSK/BTC |
| 5 | Bit-Z | LSK/BTC |
| 6 | HitBTC | LSK/BTC |
| 7 | Livecoin | LSK/BTC |
| 8 | Poloniex | LSK/ETH |
| 9 | Exrates | LSK/BTC |
| 10 | Exrates | LSK/USD |
| 11 | BitBay | LSK/BTC |
| 12 | Livecoin | LSK/USD |
| 13 | LiteBit.eu | LSK/EUR |
| 14 | BitBay | LSK/EUR |
| 15 | BitBay | LSK/USD |
| 16 | COSS | LSK/BTC |
| 17 | COSS | LSK/ETH |
| 18 | OpenLedger DEX | LISK/BTS |
| 19 | HitBTC | LSK/EUR |
| 20 | OpenLedger DEX | LISK/BTC |
| 21 | OpenLedger DEX | LISK/ETH |
 Lisk Wallet: All you need to know
So you have bought Lisk tokens now the most important process how to secure them. You can either keep your Lisk tokens on the exchange you bought like Poloniex, Shapeshift or any other exchange you bought Lisk tokens through. I generally do not recommend keeping your tokens on the exchange due to security risk, regulatory risk and bunch on other reasons which I will discuss in a separate post. The best way to hold your Lisk tokens is in Lisk wallet.
Lisk wallet is available for Windows, Mac, Linux apart from that they have a web wallet as well.
In this section, we take a deeper look at Lisk wallet, how to install it and typical issues that come with your Lisk wallet.
Step by step guide to Install Lisk Wallet
Step 1: Go to Official Lisk site and download Lisk wallet
Step 2: Install Lisk wallet on your computer/machine
Step 3: Open Lisk wallet and create a new Lisk account
Step 4: Safely store your secret passphrase
Step 5: Verify your passphrase
Step 6: You have successfully installed your Lisk Wallet
Step 7: Start sending and receiving Lisk tokens
For a detailed guide with screenshots please keep reading.
Step 1: Go to official Lisk site (https://lisk.io/get_started). Scroll down and click on Get Lisk Wallet

Step 2: On the Wallet page head to Lisk Nano and download the same.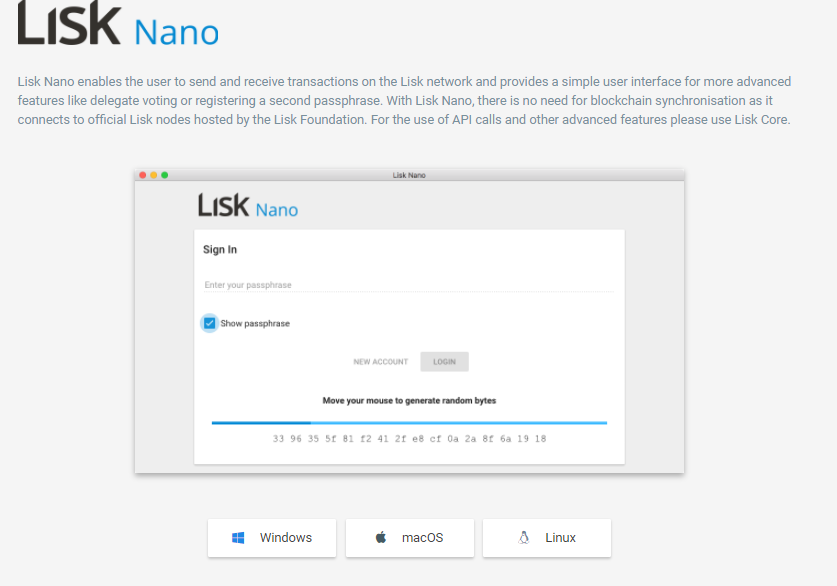 Step3: Install your Lisk wallet and create a new Lisk account. You would be prompted to create your own passphrase.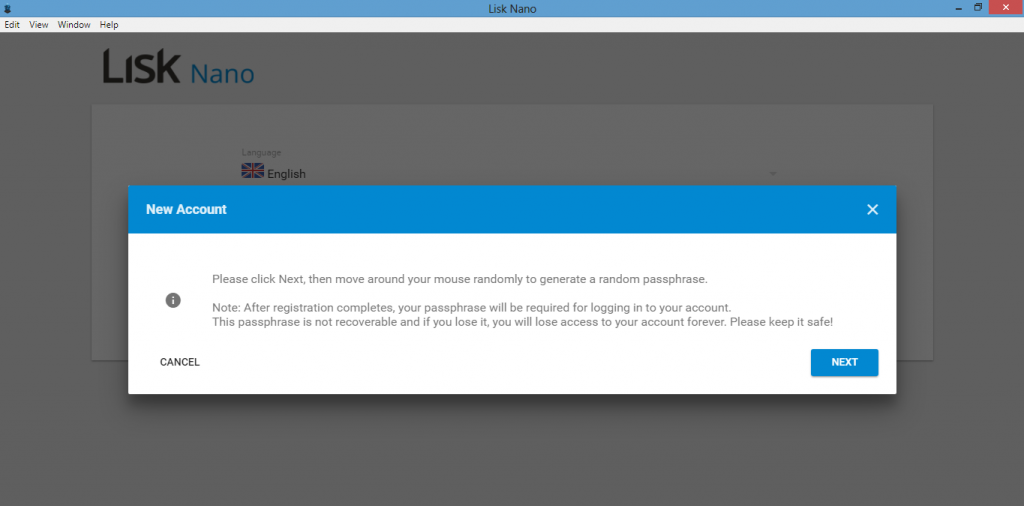 Step 4: Safely store your passphrase and verify your passphrase.
Step 5: Here you are your Lisk wallet is Installed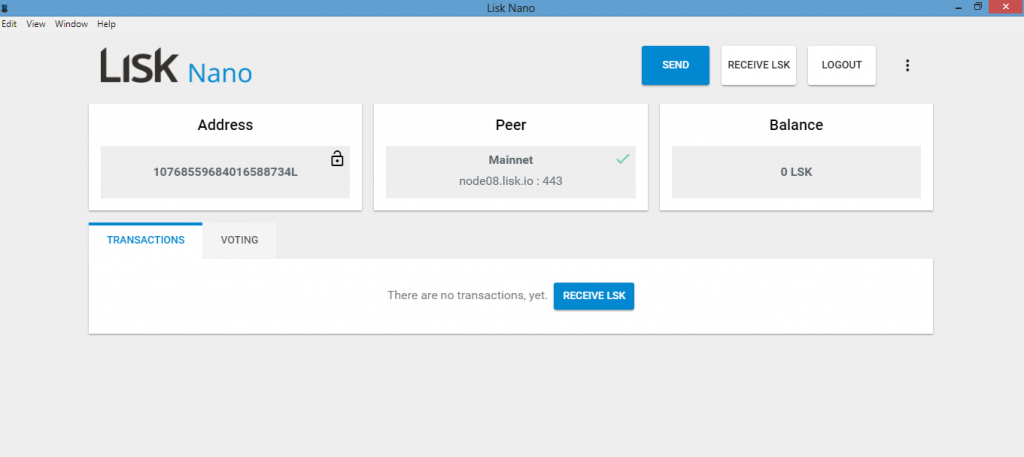 Key Resources on Lisk wallets
Some of the users have experienced issues with Lisk wallets. Issues related to moving money from Poloniex to Lisk wallet. you can review these issues or reach out for help on the following forums
Lisk Official Reddit forum
Lisk official site forum
Lisk Community Chat
Key Competitors of Lisk
Key competitors of Lisk include Ethereum, Stratis and NEO
Frequently Asked questions on LISK
Should I Invest in Ethereum or Lisk?
As a developer is it easy to develop apps on Ethereum or Lisk?
 What are some of the interesting apps developed on Lisk?
 Where can you buy Lisk?
Why does Lisk charge a voting fee?
Can someone explain the Lisk consensus system in simple terms?
 Is Lisk better then ethereum
Read our post on Lisk versus ethereum
What are the network fees on Lisk currently
Basic Fee structure of Lisk is as below
| | |
| --- | --- |
| Natur of Transactions | Fee |
| Regular transactions | 0.1 Lisk |
| Delegate registration | 25 Lisk |
| Second passphrase setup | 5 Lisk |
| Multi-signature registration | 5 Lisk per multi-user signature |
Conclusion
Lisk has been chipping away since last year by hiring a bigger team and rolling out new features. In terms of valuation, it had a great run in last 1 year. It is up against a big dog Ethereum which itself is growing very fast. Lisk team has its task cut out they need to move fast to get the ecosystem moving and create atleast on big use case which can get it on the hocky stick curve.