(Last Updated On: November 7, 2017)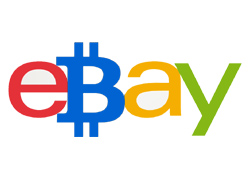 The Short answer the question Does eBay accept Bitcoins is No not yet. There is a proposal though that ebay will be enabling bitcoin not directly but through Paypal via payment processor Braintree which is ready with its Bitcoin integration.
To Checkout eBay payment guidelines and how eBay may accept bitcoins in future keep reading 
As bitcoins gain popularity as a virtual currency more and more retailers and services have started accepting bitcoins and there is a constant clamour for more services to accept bitcoin for payment. The sustainability and growth of this bitcoin effect is highly dependent upon its acceptability and validation by the existing lead brands. Bitcoins, as we all know, are a way to transfer peer to peer money and hence one questions keep coming up when will the pioneer of peer to peer e-commerce eBay start accepting bitcoin.
So I tried reaching out to eBay folks and ask them about it. While no one officially responded but they pointed me to their payments policy page. I have taken the relevant screenshot below which clearly states that eBay doesn't allow bitcoins or any other virtual or cryptocurrency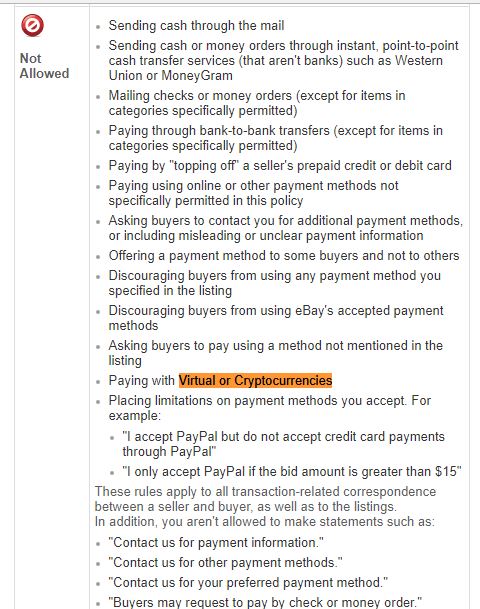 There has been lot of activity on eBay buyer and seller forums with people asking questions on why eBay is not accepting bitcoins and when will the accept bitcoins
Why ebay is not able to accept bitcoins
Security and regulatory concerns ( especially when ebay is listed)
Ensuring there are systems to handle trust and other issues related to cryptocurrencies
Do it in-house or work with PayPal now that they are separate companies or work with third-party exchanges like Coinbase or blockchain.info
Handling chargebacks and stuff like ebay guarantee program
Ongoing Speculations on how can eBay accept bitcoins
While eBay is not currently accepting bitcoins there is a lot of ongoing speculation on how they can do it in future One obvious way is they can join hands with Bitcoin via third parties something which has fructified yet
According to the sources, eBay may also work on acceptance of Bitcoin via Braintree, which is a subsidiary of PayPal. The Braintree in association with Coin base is a payment gateway service that has sought the responsibility of conversion, transfer, and transaction-related concerns for the PayPal.
PayPal in a way has also been termed as a competitor to the Bitcoin that follows a streamlined approach to Venmo payments which is strictly substituted by the growing trend of virtual currencies. The ties of PayPal with Bitcoin via Braintree have also been speculated as the defensive (protective) move by the PayPal to utilize the prevalence of Bitcoin to its own advantage.
For now, PayPal has expanded its horizons of accepting payments in virtual currencies (BitCoin) apart from the existing modes of Apple Pay and Venmo payments. Virwox and credit cards are two the mediums of buying bitcoins on the PayPal.
EBay Inc., is the parent organization spun off Pay Pal in the year 2015. In September 2013, PayPal has acquired the Braintree for $800 million, that later went into the partnership with Coin base in the year 2014 so we might see a solution for bitcoin on eBay in collaboration with paypal and coinbase or another such exchange.