(Last Updated On: January 25, 2018)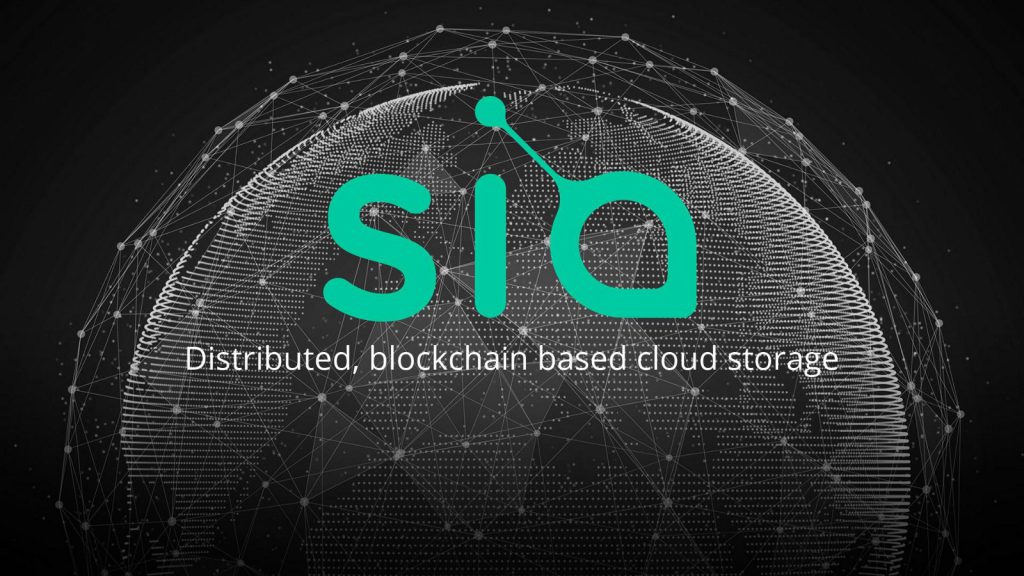 If you have just bought Siacoin from an exchange and looking to transfer your Siacoin to a Siacoin wallet.This post will explain in detail how to use Siacoin wallet. If you are looking to invest in Siacoins and looking for an exchange where you can buy Siacoin we have a summary of best exchanges to buy Siacoins.
For Beginners Before we jump to guide for Siacoin Wallet.  Let's understand Siacoin in detail. If you already know about Siacoin you can skip the first few sections
To track Siacoin price Set up Siacoin price alert
With much ado let's get to know Siacoin wallets better.
What is a Sia Coin?
Sia Coin, is a crypto-currency at the heart of decentralized storage network Sia. (A cloud storage company), was launched on 7th June 2015.Sia offers a private cloud-based storage platform hosted on the blockchain. Sia claims to offer the most economical cloud storage in the market at its list price is significantly lower then centralized cloud players like Dropbox, Amazon S3 or Google Drive.
The simple insight Sia has is to rent out storage space on decentralized community systems instead of centralized servers incumbents like Dropbox or Amazon S3 use.
How does Sia provide privacy and security to your files?
Sia technology helps to split apart encrypt and distribute your across a decentralized network with multiple hosts and the key stays with you. In layman terms, you can thin of Sia as Bit-torrent + the fact that only you can access your files.
Sia coin is the digital currency of the Sia ecosystem
Sia coins generally are utilized and accepted in the Sia network; say to purchase the hosting services of Sia, in the same way, you would use Dollars to pay for centralized cloud services giants like Google Drive, One Drive, and Dropbox.
You can Read more about  Siacoin in this Siacoin Guide
Why Siacoin can be a game changer?
Key Reason for you to invest in Siacoin
Sia with its decentralized technology has a potential to disrupt multi-billion dollar storage industry.
Sia's decentralized blockchain based solution will always be cheaper than private cloud-based solutions which most of the incumbents have hence it can be a possible game changer.
Installing Sia Wallet will not only allow your Sia Coins to sit in it but would also offer you a lucrative deal to earn the coins by giving away the idle space in your hard drive to the Sia folks. Amazingly, here you are being offered 'A Free Lunch'. Let's get the details!
One of the easiest ways to earn Sia coins is to rent out your hosting space to Sia, which in turn would lend the compensation in form of their home currency i.e Sia Coins. The coins than could possibly be exchanged for the other folks (Bitcoin, Ethereum etc), and further into the green stuff (USD, EURO, INR etc) or be utilized in its own network.
Note: You need to have a minimum balance of 50,000 Sia Coins to provide the hosting space.
Siacoin Wallet and How to transfer your Siacoins to Wallet
Now that you have got hold of your Siacoin. Next step is to transfer coins to your wallet. Currently, Siacoin supports wallets for Linux, Mac and Windows platform.
If you are looking for a quick video. See the video below for installing Siacoin wallet on Windows machine or you can go through step by step instruction after the video.
You can download the wallet that suits you here 
Once you install your wallet.Follow the following steps to get Siacoins in your wallet
Download the latest version of the Siacoin wallet. Here is the link. This app is just not a wallet but you can do bunch of other stuff but for this article, we will just focus on the wallet functionality
Extract the wallet file and then run the Siacoin UI and let it synchronize. You would need to click SiaUI.exe file. Protip: Sometimes it can talk hours to synchronize the wallet App with core blockchain
Go to the wallet tab on your Siacoin App and click ther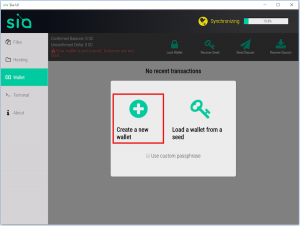 3. Please copy the seed and password. You would need password and seed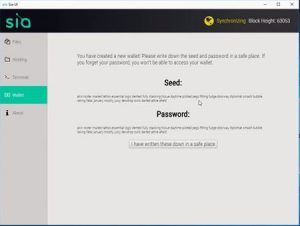 Secure the key to a safe place and confirm it.
Sending and Receiving Siacoins from Siacoin Wallet
Now that you have set up your wallet you can start sending and receiving Siacoins. So here is a simple step by step process to send and receive Siacoins
To Receive Siacoins click the receive icon in the top right-hand corner of the wallet.
Check the address displayed in your wallet to receive siacoins
So let's say you are transferring Siacoins from an exchange you would need to give this address in there to withdrawal wallet address. alternately if someone is sending you siacoins you need to give this address
To send Siacoins click on the send icon which is next to the receive icon
Input the amount of Siacoin you want to send
Input the wallet address where you want to send the siacoins. Never ever type the wallet address always copy paste or scan the QR code
Click  Send and you should be done.
Best Exchanges to Invest in Siacoins
So you are looking to invest in Siacoin. There is essentially 3 steps process before you can get your hands on Siacoin.
Step 1: Convert your Dollars/Euro or any other Fiat currency into one of the top Cryptocurrency. So with your dollars buy Bitcoin(BTC)/ Ethereum( Eth)/Lite Coins. Here is the list of top Crypto exchanges you can check out and based on your geography you can buy bitcoins or ethereum or Litecoins from one of these exchanges.
Step 2: Convert your Bitcoin/Ether/Litecoins into Siacoin from one of the top exchanges like Poloniex, Shapeshift, Bittrex.
Step3: Now that you have the Siacoin in your exchange accounts next step is to move them back to Siacoin wallet. The process is explained in detail.
List of Exchanges to Shift your crypto assets to Siacoin

Poloneix : Poloneix is a U.S based exchanged which initiated in January 2014. The exchange extends the swift services in trading the diverse range of crypto-currencies like Bitcoin, Ethereum, Litecoin, Sia coin, Ripple and the list goes on. The important noting in this exchange is that it does not offers the trading in fiat currency, rather follow the regime of trading the other coins against the bitcoins.

Bitterex : Bittrex Exchange is among the preferred exchange to buy/sell the Sia coins. It is located in U.S and provides a secure platform to deal in the cluster of crypto-currencies like Bitcoin, Ehereum, Dao, Krypton, STEEM, Ripple and lot more, making it around 190 currencies in number.

Shapeshift: Using the mobile and web platforms, Shapeshift offers the trading of numerous blockchain tokens including the top players like Bitcoin, Ehereum, Sia coins, Monero, Zcash, Dash, Dogecoin and what not! It is claimed one of the safest and fastest option to switch from one crypto-currency to another.
Frequently Asked question on Siacoin Wallet
How much time does it take to synchronize Sia Wallet App?
It can take few minutes to few hours sometime to get your wallet synchronized with the blockchain
  2. Do I need to us only Siacoin official wallet for storing Siacoins?
Yes, you would need to use Siacoin official wallets for this as Siacoin App apart from wallet also provides key other functionalities.
     3.  Can I directly buy Siacoins with Fiat money or through my credit card 
No, currently you need to buy some base cryptocurrency like bitcoin/ethereum/litecoin and convert it into    Siacoin and convert into Siacoin through one of the exchanges explained above.
4. My Siacoin App is crashing regularly what to do?
You can post your specific issue at Siacoin forums or just retry some of the earlier versions were prone to crashing.
5. Who are the major Competitors of Siacoin?
Major competitors for Siacoin include Amazon(AWS), Microsoft Cloud and Google Cloud
Key Information Summary on Siacoin
Founders:  David Volrick and  Luke Champine
Total Coin Supply: Infinite
Block Chain Protocol: Proof of work
Usage: Cloud storage Digital money
Algorithm :Blake:256
Mining: GPU